Thank you to everyone who attended our webinar on 14 September! We hope you found it helpful. If you didn't attend, you can watch a recording of the webinar here.
Here is a list of the resources that were referred to in Dr Rukshana Ali's talk:
Resources for children and adolescents:
Child and Adolescent Mental Health Services (CAMHS)
School Counsellors
Headspace app
Calm app
Ninja Focus app
Smiling Mind app
Resources for adults:
Headspace app
Calm app
Smiling Mind app
More information on habit reversal can be found on this page. The book that was mentioned was The Eczema Solution by Sue Armstrong-Brown.
If you are interested in taking part in the Mind and Skin Project, please contact Dr Shona Cameron: Shona.Cameron@gstt.nhs.uk
Link to the Eczema SLEEP questionnaire for parents
Link to the Eczema SLEEP questionnaire for children and adolescents
Eczema and the mind-skin connection webinar
We're delighted to be joining forces once again with St John's DermAcademy to bring you a webinar during National Eczema Week 2023 with a focus on mental health and eczema. This webinar will cover the interface between mental health and eczema, how living with eczema can affect mood and how and where to access support. You will also hear an overview of the Mind-Skin project and the results of National Eczema Society's Impact of Eczema survey – plus have the opportunity to ask questions!
The webinar will be livestreamed via Facebook and the recording will remain available to watch afterwards. To able to participate in the webinar, however, you would need to register in advance and join on Zoom.
Programme
6.00 Welcome and overview of the evening by Professor Carsten Flohr
6.05 'How eczema affects our emotional well-being' by Dr Rukshana Ali

It is well known that eczema can impact on depression and anxiety. This talk will focus on the interface between mental health and eczema, how living with eczema can affect mood and how and where to access support.

6.25 'The Mind-Skin Project' by Professor Carsten Flohr

The King's College London 'Mind & Skin' programme led by Prof. Carsten Flohr examines the links between skin inflammation, itching, sleep and body clock disruption and potential inflammation in the brain. This includes detailed sleep studies and functional brain MRI testing, bringing together a team of dermatologists, sleep medicine, body clock and brain imaging experts as well as psychiatrists who specialise in the links between body and brain inflammation.
Professor Flohr talking about eczema and its impact on mental health and sleep disturbance in children.

6.30 Andrew Proctor, Chief Executive of National Eczema Society, will present the results of National Eczema Society's Impact of Eczema survey.

6.35 Panel discussion/Q&A

7.00 Close
Webinar speakers
Dr Rukshana Ali
Clinical Psychologist, St John's Institute of Dermatology and Evelina Children's Hospital
Guy's and St Thomas' NHS Foundation Trust
Dr Rukshana Ali is the Clinical Psychologist within the Paediatric Dermatology team at the St John's Institute of Dermatology. She is also a lead Clinical Psychologist within the Evelina Children's Hospital trauma service. Dr Ali has 20 years of clinical experience and qualified with her doctorate in Clinical Psychology (DClinPsy) from Royal Holloway, University of London. Dr Ali holds a Postgraduate Diploma in Cognitive Behavioural Therapy and is trained in several other therapy models.
Dr Ali sits on the Executive Committee for Psychodermatology UK. She is part of the British Society for Paediatric and Adolescent Dermatology (BSPAD) Psychology Taskforce, developing guidelines around mental health monitoring and support for children and young people. Dr Ali works jointly with Dr Susannah Baron in leading the award winning Paediatric Psychodermatology service. Dr Ali has contributed to research, publications and conference presentations around the role of psychology and psychological wellbeing in dermatology.
Professor Carsten Flohr
St. John's Institute of Dermatology
Guy's & St Thomas' NHS Foundation Trust and King's College London

Professor Flohr holds the Chair in Dermatology and Population Health Science at St John's Institute of Dermatology, King's College London, and is Head of Paediatric and Population-Based Dermatology Research.
Carsten Flohr studied at Cambridge and Oxford Universities and then trained in both paediatrics and dermatology.
He was the first UK National Institute for Health Research (NIHR) Clinician Scientist in Dermatology (2009-2014) and the first dermatologist to be awarded a Career Development Fellowship from the NIHR (2014-2019).
He has a particular interest in novel methods of atopic dermatitis (AD) prevention (early life risk factors), how AD links in with food allergies and therapeutics, especially in severe AD.
He is Chief Investigator of the UK-Irish TREatment of severe eczema in children Trial (TREAT), which compares cyclosporine with methotrexate in children with recalcitrant atopic eczema. He is also Chief Investigator of the Softened water for eczema prevention trial (SOFTER) and the UK-Irish Atopic Eczema Systemic Therapy Register (A-STAR), as well as the EU-funded BIOMAP and Trans-Foods consortia.
Prof Flohr is a Founding Director of the International Eczema Council and Past President of the British Society of Paediatric Dermatology, as well as an Honorary Member of the Société Française de Dermatologie.
He is Co-Lead of the European (EuroGuiDerm/European Dermatology Forum) management guidelines for atopic dermatitis, Founding Editor of the Evidence-Based Dermatology Section of the British Journal of Dermatology and the Clinical Trials Editor of the F1000 Atopic Dermatitis Section.
Andrew Proctor
Chief Executive of National Eczema Society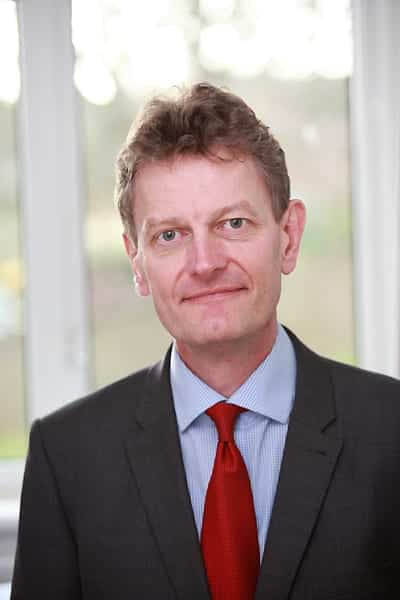 Andrew joined National Eczema Society as Chief Executive in March 2018. He has worked in the voluntary sector for over 15 years, including spells with Asthma UK, Alzheimer's Society and Action Medical Research. He believes passionately in people having the right information and advice to make informed choices about their health, and in supporting people to self-manage their health conditions effectively. Andrew has a particular interest in digital, which he sees as playing an increasingly important role in healthcare and in helping National Eczema Society reach more people affected by eczema. He is inspired by the Society's many members, donors, partners and other stakeholders who work so hard to improve the quality of life for people with eczema.
Other panellists
The other webinar panellists will be Dr Susannah Baron, Consultant Dermatologist, Dr Naomi Kemp, GP and Dr Mark Turner, Clinical Psychologist.
National Eczema Society is raising awareness of the true impact of eczema during National Eczema Week this year (9-16 September 2023). Our More than "Just an Itch" campaign will highlight the debilitating nature of eczema and its profound effect on people's lives, shining a light on the mental health impacts of eczema that are so often overlooked.
We recently conducted an online patient survey to better understand how eczema affects people's emotional, social and personal well-being. Shockingly, 91% of respondents said their eczema made them feel self-conscious or embarrassed, and 83% were envious of those who do not have eczema. Around 4 in 5 respondents thought that eczema reduces patients' quality of life. A big thanks to everyone who took part in the survey.
Living with eczema can be physically uncomfortable, but it also takes an emotional toll. The persistent itching, pain, and visible appearance of eczema patches can lead to feelings of self-consciousness, low self-esteem, and social anxiety. People with eczema may experience frustration, embarrassment, along with greater anxiety and depression due to the constant struggle with their skin condition – it really is More than "just an itch".
Our campaign's core objective is to encourage people to have open conversations about eczema and how this affects their mental health and emotional well-being. Through sharing stories of eczema patients' experiences, resilience, and coping mechanisms, we want to help reduce the stigma associated with the condition and foster an environment of empathy and understanding.
We are producing a series of engaging videos and podcasts for the campaign, helping to raise awareness of the wider impacts of eczema that are not acknowledged enough. We also want to encourage and empower people to open up and share how they really feel about living with this long-term condition.
As part of the campaign, we are going to launch an appeal page for More than "Just an itch", to help National Eczema Society continue its campaigning work to raise awareness and improve medical care for the many people who are suffering with poorly controlled eczema. Do please donate if you can. By standing together as an eczema community, we can foster greater understanding and support for those living with eczema and challenge the stigma associated with the condition.
To donate to our More than "Just an Itch" campaign Text ITCH to 70450 to donate £5.
(Texts will cost the donation amount plus one standard network rate message, and you'll be opting into hearing more from us. If you would like to donate but don't wish to hear more from us, please text ITCHNOINFO instead.)
National Eczema Society has worked with other charities to create a Patient Charter for people living with atopic eczema, developed in collaboration with Sanofi. The new Patient Charter is being launched today (6 July 2023) in Westminster, where we are speaking to parliamentarians about the issues that matter to people with eczema.
Most people have heard the name 'eczema' and know about some of the more obvious symptoms like skin rash. But it's hard to appreciate just how devastating eczema can be, unless you or someone close to you has the condition. Eczema is a complex immune-mediated condition that has wide-ranging psychological, social and financial impacts, as well as the more obvious affects on people's physical health.
From surveys, we know 4 out of 5 people with eczema say the condition has negatively impacted their mental health. Anxiety, depression and suicidal thoughts are much more common amongst people with moderate-to-severe eczema. In a 2021 survey, a third of respondents said they spend at least an hour every day managing their condition, doing things like applying emollients and other topical treatments. Half of the adults who took part in the survey reported having to take time off work because of their eczema.
Our patient charter makes a number of key recommendations:
Improved access to specialist dermatology care and psychodermatology services
People living with eczema to become genuine partners with healthcare professionals in their own care
Better education to help people self-manage eczema and improved mental health support
Dermatology services are supported to provide patient-centric care.
You can read the patient charter here, which has the full text of our vision for better care for people living with atopic eczema.
Update
National Eczema Society is very disappointed at the outcome of the recent NICE proposals to stop doctors prescribing bath emollients for children with eczema. These proposals have now been adopted.
We wanted NICE to reconsider and continue recommending that doctors prescribe bath emollients when there are strong medical reasons for doing so. We believe children with atopic eczema and their families will be disadvantaged and suffer as a result of this change. Bath emollients are used by many children and their parents as part of a skincare regimen to manage eczema. Now they will be forced to buy them, if they can afford it.
We have concerns about over-relying on the findings of single research trials as the basis of being 'good enough' to limit or withdraw eczema treatments on NHS prescription. Such trials do not always fully reflect the real life experiences of people with eczema or clinical practice.
The NICE guidance says that children should use leave-on emollients as a soap substitute when bathing. Therefore, it's important to be prescribed sufficient quantities of emollient to use as both a leave-on emollient and soap substitute. People may need to be prescribed one or more types of emollient that work effectively for both purposes. Parents can use this NICE guidance update as justification for asking for different types and higher quantities of emollient on prescription if needed.
The updated NICE guidance also recommends that healthcare professionals offer personalised advice on washing with emollients or emollient soap substitutes, so ask your doctor or nurse about this too.
NICE proposals
3 April 2023
The National Institute for Health and Care Excellence (NICE) wants to stop doctors prescribing bath emollients for children with eczema. NICE is consulting on proposals to change its guidelines for treating children with atopic eczema and the deadline for responses is Tuesday 4 April.
National Eczema Society believes children with atopic eczema and their families will be disadvantaged and suffer as a result of these proposals. We are asking NICE to reconsider and continue recommending bath emollients in clinical circumstances where it is appropriate to prescribe them. Bath emollients are used by many children and their parents as part of a skincare regimen to help manage eczema.
Emollients and soap substitutes are vital in helping manage the dry skin associated with eczema. National Eczema Society is concerned that only children whose families can afford to buy bath emollients will have access to these products under the new proposals. The poorest families will be hit hardest and it seems especially unjust as many are grappling with the cost of living crisis. We believe doctors should be able to continue prescribing bath emollients when it's in the child's best interests, to achieve the best eczema care. Hard-pressed parents can't always find the time to use leave-on emollients with their children and they may rely on bath emollients to help manage their child's eczema.
For some parents, using bath emollient is more practical and more effective than applying leave-on emollient to their children in the bath. Adding a capful of bath emollient to the bath while the water is running is quicker and easier than trying to emulsify a leave-on emollient to serve the function of a bath emollient. This can be important when busy parents have a number of children to care for and limited time. Caring for children with eczema can be exhausting and relentless for parents, as evidenced by the extensive literature on carer burden.
Bath emollients are formulated to disperse evenly and well in bath water. This is not the case for leave-on emollients. As anyone knows who has tried to disperse leave-on emollient in water, it usually ends up as blobs of emollient in the bath water, rather than a uniform film that covers the child's skin more evenly and comfortably. This point is particularly relevant to children with sensory perception disorders, who can find it difficult to be touched or dislike the texture of leave-on emollients on their skin. Bath emollients can help restore the skin barrier without physical touch. The notion that using leave-on emollient as a soap substitute for washing children in the bath is equally or more effective than bath emollients for all children is not supported by the literature.
These NICE proposals are based largely on the results of the BATHE (Bath Additives in the Treatment of cHildhood Eczema) research study. National Eczema Society has expressed concerns about the design of this study and how much this reflects real-world use of emollients, soap substitutes and bath emollients.
The BATHE study did not address the questions that would have been most insightful, such as 'what is the best soap substitute?' and 'are bath emollients more effective than leave-on emollients as soap substitutes?' Rather, the BATHE study focused on a nuanced research question that looked at the efficacy of bath emollients in a very specific set of theoretical circumstances. It looked at outcomes when children used leave-on emollient during the day and leave-on emollient in the bath as a soap substitute, and bath emollient in the bath, compared to children who used only leave-on emollient and leave-on emollient in the bath as a soap substitute. Parents would typically use a bath emollient OR a leave-on emollient as a soap substitute when bathing their children, not both. National Eczema Society argues that the BATHE study design does not sufficiently reflect real world patient experience or prescribing practice.
The BATHE study addresses likely population level impacts only and was not adequately powered to identify subgroup differences. As such, the BATHE study does not take into account sufficiently the heterogeneous nature of atopic dermatitis. It is a complex immune mediated disease and affects children differently. Treatments and treatment approaches that work for one child may not be effective for another. In particular, different or more intense treatments are often appropriate for children with more severe eczema.
For these reasons and others, National Eczema Society is asking NICE to reconsider and continue recommending bath emollients in clinical circumstances where it is appropriate for healthcare professionals to prescribe them.
National Eczema Society is excited to be co-funding the 2023 UK Dermatology Clinical Trials Network research awards. These are focusing on projects to improve care for people of colour. The Society is awarding a £10,000 grant for the best research proposal to help make life better for people of colour who have eczema. This is in addition to the UK DCTN research award for any aspect of dermatology in skin of colour.
Applications can include work related to outcome measures and pilot or feasibility work, including surveys and qualitative research methods. Please consider applying! The closing date is 17 July 2023.
More information here.
Leading professional dermatology organisations and other charities have joined National Eczema Society in calling for clear potency (strength) labelling of steroid creams and ointments. We are asking the UK medicines regulator, the MHRA, to ensure pharmaceutical manufacturers include consistent and clear potency labelling on topical steroid (TCS) tubes, packaging and patient information leaflets. Here is the full letter submitted to the MHRA.
Topical steroids are used by millions of adults and children in the UK to treat or prevent eczema flare-ups. It is important patients and their carers have the right information to use these medicines safely and effectively to manage eczema well. Topical steroids are effective treatments for eczema but, like many treatments, they can have side effects. People with eczema and carers are understandably concerned about overusing TCS. We believe clear potency labelling will help improve patient understanding and confidence in these widely-used medicines.
Steroid creams and ointments come in four levels of potency: mild, moderate, potent and very potent. When deciding on topical steroid potency, healthcare professionals take into account factors including eczema severity, the age of the person, and the area of the body where the eczema needs treating. People are sometimes prescribed different potency TCS to use on different areas of the body. Over time, patients can amass a number of different topical steroids medicines, with no meaningful information shown on the tube or packaging about their potency or equivalence.
The situation is made more confusing with the various types and many product names of topical steroid creams and ointments. The product packaging shows the percentage of active ingredient, but it's difficult working out what this means in terms of the steroid strength. For example, 1.0% hydrocortisone is a mild topical steroid, whereas 0.1% betamethasone valerate is potent. There can be a six hundred-fold difference between mild and very potent topical steroids. Patient information leaflets that come with products rarely state the TCS potency level.
At the moment, the system relies too much on healthcare professionals explaining about potency, but there is not always time for this during busy consultations. It also relies on patients understanding and remembering what is said in consultations. We can – and must – do better.
We need standardised labelling, so that patients and healthcare professionals become familiar with the way that potency is shown across all the many different topical steroid products and brands. The labelling scheme must be independent of language and literacy level, to be inclusive and effective. The goal is to achieve a level of patient understanding comparable to sunscreen strength using the Sun Protection Factor (SPF) labelling, which enables people to use sunscreens confidently and effectively.
This call for clearer labelling has strong support from the eczema community. National Eczema Society conducted an online survey in January this year, to find out more about people's knowledge and understanding of steroid potency. We received 943 responses, from both adults with eczema and parents of children with eczema, and many thanks to everyone in the eczema community who took part.
Almost all respondents, some 98%, knew that TCS comes in different potences (strengths). However, almost half said they did not know how many different strengths there were, and only 17% correctly answered '4'. Most people (70% of respondents) said they would look at information printed on the tube or product packaging to find out about potency. It seems a glaring omission that potency information is not routinely provided at the moment. Some 95% of respondents said they would like to see clear strength labelling on all steroid creams and ointments. See here for the full survey results.
This initiative for clearer labelling has strong support from healthcare professionals and other charities, with the following organisations endorsing the National Eczema Society's campaign:
Please see our webpage and other information for more about topical steroid treatments for eczema.