Baby on board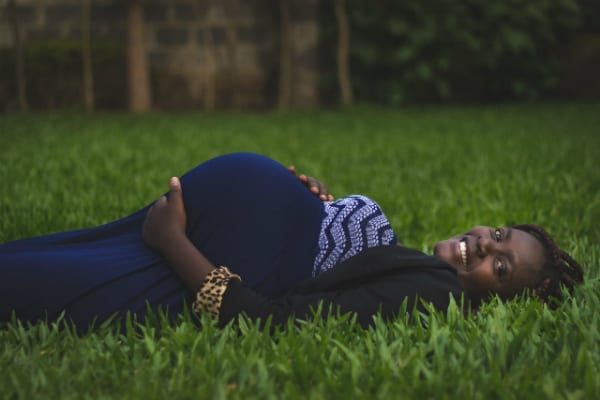 Should you eat a special diet?
Eczema treatment during pregnancy
Julie Van Onselen and Claire Moulds set out the latest evidence and practical advice for navigating pregnancy and eczema. This article was published in Exchange 179, March 2021.
All pregnant women find themselves under scrutiny from family, friends and even strangers, with people offering advice on what you should and shouldn't be doing. Throw in uncorroborated claims on social media and marketing messages, and then add eczema to the mix and it can feel overwhelming.
Pregnancy skin
People often talk about women 'blooming' in pregnancy, with glowing skin. However, even for women without eczema, this is not always the case as hormones often cause pigmentation issues and skin irritation.
Normal pregnancy skin changes include darkening of the areola, nipple and genital skin, while pigment changes include the linea nigra (a dark line running down your bump) and temporary dark facial patches called melasma. Meanwhile, changes to blood vessels can cause reddened palms and varicose veins.
Lots of expectant mums find their skin is itchier than usual, too – and not just those with eczema. This is sometimes related to cholestasis (a build-up of bile), which can occur in all pregnant women but the cause is not always known. Even if your skin is very dry, it will stretch naturally to accommodate your bump and this growth won't aggravate your eczema. However, some women notice stretch marks appearing on their bump and hips (caused by tissue tearing from rapid growth). Some people are more susceptible to stretch marks than others, but eczema does not increase your risk. Keeping your skin well moisturised can help, so simply keep using your regular emollient to moisturise your growing bump.
Should you eat a special diet?
A recent Cochrane review found insufficient evidence to recommend any specific maternal diets or supplements to prevent atopic eczema in their babies. A few studies suggest that probiotics may help to reduce the risk, but the evidence so far is weak and it's unclear which strains are the most effective. For simple, evidence-based guidance, go to the NHS guidance on foods to avoid during pregnancy.
Eczema treatment during pregnancy
Some people find their eczema improves during pregnancy, while others experience flare-ups. It's important to know that if your eczema does get worse, this won't affect your growing baby and there are lots of treatment options that are safe to use during pregnancy.
A lot of women feel under pressure to 'go natural' with every aspect of their pregnancy. But when it comes to eczema, there's no need to replace your usual emollient with another product. In fact, products marketed as 'natural' often contain ingredients, such as fragrance, that could irritate your skin.
Continue to treat flare-ups, based on the advice of your healthcare professional. Mild, moderate and potent topical steroids are all safe to use in short treatment bursts of up to two weeks during pregnancy. If your eczema becomes very severe, other treatment options are also available, prescribed under the specialist care of a dermatologist.
After your baby is born
Eczema can flare after the birth of your baby and it's really important to schedule time to manage your treatment regime, as well as the needs of your new addition. Make use of a steady stream of visitors to hold your little one while you look after you!
All the extra washing and cleaning involved with caring for a newborn can aggravate, or cause, hand eczema. Find out more and download our Hand eczema factsheet. If you had a vaginal delivery, the area around your vulva will be sore, too, and you may get genital eczema (see our Female genital eczema factsheet).
If you had a caesarean section, you'll need to take extra care of your wound. To reduce the itch and scarring as it heals, apply emollient gently to the area. Ask your midwife how soon you can start this, as it will depend on your individual circumstances. If the wound becomes red, hot and sore, you could have an infection and must tell a healthcare professional.
Breastfeeding advice
If you choose to breastfeed, nipple eczema can be an issue.
Things you can do to help ease the discomfort:
Seek out expert advice in the early days – for example, from a breastfeeding counsellor – who can show you how to help your baby latch on effectively and avoid tugging.
It's safe to use emollients when breastfeeding and this can help prevent nipple eczema. If you're demand feeding, it's difficult to predict timings, but try to leave a gap of at least 30 minutes between moisturising and feeding to allow the emollient to absorb into the skin.
There's no need to wash the area before your baby feeds – and in fact, extra washing could aggravate the eczema.
Moisturise immediately after breastfeeding, to help stop your nipples becoming sore.
If you use breast pads, change them whenever they get damp, to prevent irritation.
If you have nipple eczema that requires additional treatment to reduce inflammation (usually with topical steroids), follow your healthcare professional's advice. After you apply topical steroids, it takes about an hour for the skin to absorb them. So leave a gap of an hour after applying them to your nipple, and then wash the nipple with emollient before the feed. Topical steroids only need to be applied once a day, so if you apply the treatment straight after one feed, that should leave plenty of time for it to be absorbed before your next feed.
Some breastfeeding mothers wonder whether their diet could affect their baby's eczema. The research doesn't tell us whether changing a mother's diet reduces the severity of eczema in a child who is breastfed. If you suspect a food allergy – for example, if your baby reacts after breastfeeding – this could be in response to something you've eaten. Your healthcare team might suggest a short trial of an allergen-specific exclusion diet, under medical supervision.
Your baby and eczema
If you or your partner have eczema – or other atopic conditions, such as asthma or hay fever – it's natural to worry that your baby might develop it too. There's no way of knowing for sure whether they will. Even if they do, it may be very mild even if yours is more severe.
Atopic eczema is a genetic condition and there is no clear evidence to suggest that taking specific measures, such as lifestyle changes before conception or during pregnancy (as well as those recommended for all pregnant women), will prevent eczema.
What's the risk of my baby having eczema?
1/10: If neither of the parents nor any other of their children has eczema, asthma or hay fever.
1/4: If only one parent has eczema, asthma or hay fever.
1/2: If you have other children with eczema, asthma or hay fever or if both parents have eczema, asthma or hay fever.