National Eczema Society produces a range of evidence-based patient information booklets about different types of eczema, treatments and self-management advice. Our information is evidence-based and reflects current research findings and clincial guidelines. All our publications are reviewed periodically by experienced dermatology clinicians, and updated more frequently if guidelines change.
Healthcare professionals working in dermatology in the UK can order copies of our booklets free-of-charge, to use with patients. As the UK charity for everyone affected by eczema, National Eczema Society wants as many people as possible to have access to good quality information and resources. To order National Eczema Society booklets, please complete this order form and return to us at professional@eczema.org or mail to: National Eczema Society, 11 Murray Street, London NW1 9RE. Please note, we are unable to send our printed resources to addresses outside the UK.
Eczema management guide for healthcare professionals
National Eczema Society produces a guide on eczema management specifically for healthcare professionals. This can also be requested using the order form mentioned above.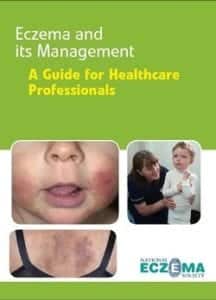 Keep up-to-date with eczema
Please do sign up to receive our regular email newsletters, to keep up-to-date with developments in eczema management and research.
Get involved with National Eczema Society!
National Eczema Society values and appreciates the support of the many healthcare professionals and researchers who contribute to the charity's work in so many ways. This includes speaking at Society events, reviewing our publications, writing for our member magazine and contributing to our Medical Advisory Board. Do email us at info@eczema.org if you'd like to get involved – we'd love to hear from you!