Board of Trustees
Stephen Pugh (Chair)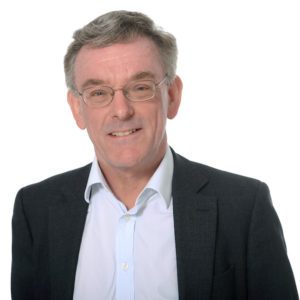 Stephen, a lifelong eczema sufferer and member of the Society for many years, has had a long career with various organisations, including Price Waterhouse, NM Rothschild, Burberrys, The Economist Group and Adnams. He is also Chair of Corporation at Suffolk New College and an adviser to the Adnams pension scheme.
James Pitayanukul (Treasurer)
James first volunteered for the National Eczema Society in 2012, raising funds for the charity by running the London Marathon. He chose to support the Society due to his lifelong experience of eczema. He shared his story of 'Living with eczema' in an article in the Society's Exchange Magazine in 2015. He is also a father of a young child with eczema and, since becoming a parent, his desire to help others going through similar challenges really strengthened. James became a Trustee of the Society in 2020 and Honorary Treasurer in May 2022.
James is a chartered accountant. He works at a small practice in Wapping, London and was previously at EY. Since 2012, James has continued his interest in running and completed a number of marathons.
Hannah Kunzlik
Internationally Scottish, Hannah works in charity communications and writes on the side. Her background in politics and human rights took her to Brussels and Washington DC, the latter as the Jane Haining Fellow on the Lantos Congressional Fellowship. Upon returning to the UK, Hannah moved into communications with an MSc in Political Communication and a communications role through the Charityworks Graduate Scheme. Currently at the Duke of Edinburgh's Award, Hannah has previously worked in mental health, domestic violence, substance use, and youth organisations.
Having lived with severe, chronic eczema since childhood, Hannah is delighted to have the opportunity to make a difference for people going through similar things. Hannah became a Trustee of the Society in 2022.
Professor Celia Moss OBE
Celia has been Consultant Dermatologist at Birmingham Children's Hospital for over 25 years and is honorary Professor at the University of Birmingham. Now semi-retired, she has served as Chair of the British Society for Paediatric Dermatology and member of the National Eczema Society's Medical Advisory Board. She lectures, advises and publishes widely on paediatric and genetic dermatology, and is a firm believer in patient support groups. She was awarded an OBE in 2016.
Bharat Pandya
Bharat has a background in law and finance bringing a range of experience from the charity and commercial sectors in finance, IT, HR, communications and income generation. He is also experienced in governance, while being proactive in equal opportunities. He has a passion for organisational development and strategy to ensure maximum benefit for all stakeholders.
Bharat's daughter has had eczema since a very long age, which gives him a deep understanding of the condition and is the prime motivator for him becoming a Trustee of National Eczema Society.
Hedwig Vollers
Hedwig is a recent eczema accepter. Like many others, she thought her skin was just itchy at times. After being diagnosed with eczema, she found National Eczema Society online and the charity's resources helped her understand the condition and how to manage it. She later joined as a Trustee to help the Society reach more people who, like her, may suffer from eczema but don't realise it yet.
Alongside her work as a Trustee, Hedwig has a thriving career in marketing and media management. She currently runs the global media strategy for a large consumer goods group.
Suzanne Watson
Suzanne is the managing director of Approach PR, a company she founded in 2001 that manages the reputation of clients in a range of sectors including manufacturing, retail, charity, food and drink, hospitality and tourism. Alongside living and breathing PR, Suzanne sits on the board of governors at Bradford Grammar School and represents the voice of local businesses as the vice president of Bradford Chamber of Commerce.
Suzanne has lived with eczema since the age of 14 and her son Ben (16) has had eczema since birth. Her moving account about the emotional and physical impact of the condition has appeared in both regional and national media, in the medical press. Suzanne has represented the National Eczema Society on TV, radio and at information events to inform, advise and educate audiences about eczema. Suzanne joined as a trustee of the National Eczema Society in 2010, drawing on her professional expertise to help the charity fulfil its mission of providing support and information to those living with the condition and their families, as well as continuing to raise awareness for the condition.