James shares his experience of eczema and how it impacts every area of his life.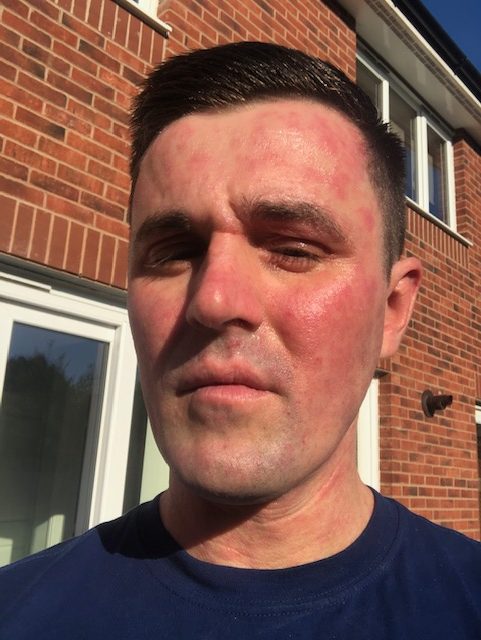 This week is National Eczema Week (11th-18th September 2021). I have decided to raise passionate awareness for anyone suffering with or caring for someone with eczema/atopic dermatitis (AD) and allergies, or any other skin condition for that matter. This is my story, a lucid account; I hope to inspire, help, or give comfort to anyone living with this chronic, inflammatory, relapsing, non contagious and incessantly itchy skin disease. A disorder that affects the largest organ of the body.
I do not write this article as a 'victim', I write with an empowered point of view through life long experience and perspectives.
Most people are familiar with eczema, as 1 in 5 children in the UK are affected. However, let me be very clear, there's a lot of misconception around eczema due to the levels of severity and forms. The stigma that eczema can 'just be dealt with' is simply myopic; a lack of knowledge and empathy about what eczema is and how it characterises and manifests itself so uniquely in each individual. Unfortunately this disease, so common yet misunderstood, attracts a lot of ultracrepidarian comments and opinions. Sadly I've found myself at the more severe end of the severity spectrum for a lot of my life.
Most people assume that there is a 'cure-all' that works for everyone and that the condition is purely cosmetic. For many, there are a wide range of symptoms ranging from trivial problems to major handicaps which affect their whole lives. The misery of living with eczema cannot be overstated, for it may have a profoundly negative effect on the quality of life for sufferers and their families.
A life with eczema/AD is all I've ever known; since I was a young child my family and I have found ways of coping with chronic skin disease. However, as a precocious child in preschool and primary school in the UK, I never really viewed my condition as something I had to 'deal with'. I knew my skin was different to a lot of other children and at times it was tough, very tough. Going through adolescence, going to university, completing a masters degree, competing in swimming at national level, marrying my wife, the birth and upbringing of my young son. All of these compelling life events have not been without challenges due to my skin condition and allergies. As I've got older and wiser I've found the impact on myself and family fluctuates significantly.
Not only do I suffer from chronic eczema, at times affecting my whole body; I also have to manage other intrinsically linked medical conditions, such as asthma, clinical keratoconus of my left eye and mild-severe food and environmental allergies, for example fish, eggs, nuts; house dust mites, (I wash my anti-allergenic bedding daily on a 60 degree wash!); pollens, mould/mildew, animal/pet dander; I've never had pets and could never have sleep-overs as a child with anyone who had pets. My family had to move into a new build home to ensure that there's never been animals in the house previously; as I found, even 'gutting' a house leaves dander in wall cavities! I find it challenging taking my young son to the zoo, or circus!
To provide some perspective on how reactive my body is to allergens; we all have something called immunoglobulin E (IgE), IgE are antibodies, typically found within small amounts in the blood. Medical practitioners tend to consider anything between 1-10 as 'normal'. My IgE score is >6,500! In short, my immune system is viciously overactive to allergens causing severe eczema and flaring of the skin.
My medical complexities and variables have challenged many dermatology and immunology specialists over the years; it never has, or will be clear on what came first, the allergies and/or the eczema. That said, whoever I speak to I often draw on multidimensional perspectives which is great for further understanding such a complex and persistent medical case.
Before I go any further, to convey the severity of eczema at points in my life I feel it prudent to provide some personal context and examples of some of the considerations, effects, treatments and consequences of living with chronic eczema. Forgive the list, but I feel this draws on some of the harsh realities; with special acknowledgement of the times when the night/day is darkest and adversity is at its highest:
Vicious cyclical use of oral and injected steroids.
Prolonged use of immunosuppressive medications (that are also often used to treat transplant and cancer patients).
Sedating antihistamines.
Photosensitivity.
Potent steroid and emollient cream wrapped bandages head to toe for sleeping.
Bleach and salt baths – a simple shower enough to make a grown man turn to tears.
Skin infections so bad that you can barely open your eyes (secondary infections).
Unbearable nerve pain ('zingers') – feeling like ants are crawling under your skin.
Swollen lymph nodes.
Lack of skin elasticity.
Night sweats.
Raw skin that sticks to everything.
Leaving a visible trail of shedded skin.
Open cuts.
Light treatments.
Cryotherapy.
Crippling insomnia caused by eczema symptoms and debilitating anxiety about what your skin could feel and look like the next day.
Home considerations; limited soft furnishings, wooden floors, daily deep cleaning of our house to remove allergens.
Clothing considerations; never wool, only cotton, rarely whites! Sport considerations; equipment, clothing.
Commuting considerations; using public transport – catching the tube, or train due to the heat and dust.
Financial considerations; due to the general management of such an evil disease.
The list goes on…
Eczema is not just something that wreaks havoc with my skin; it's pervasive through my entire life. There's often little respite from thinking about it. You rarely, if at all feel relief, I feel itchy at least 5-6 times an hour, every single day, 365 days of the year.
Whilst my skin does not define me, however at times I've felt it has! I solemnly believe that this journey and my experiences have helped shape who I am today; I use my condition as a pillar of strength and take courage in the fact that I know over time it's made me more resilient, empathetic, stronger and authentic. Daily, weekly, monthly, sometimes yearly battles with my skin, but having the intestinal fortitude that perpetuates learning about my body, mind and self, now helps to define me and personify my abilities and personality. In turn, this enables me to help others and draw a plethora of parallels when working at PwC to help organisations solve complex problems, always thinking 3 or 4 steps ahead.
I would like to conclude by leaving some practical non-medical advice for those suffering with, or caring for someone with eczema/AD. The unequivocal effects that are felt far and wide cannot be understated. When you or a loved one has eczema, the amount of effort that goes into trying to avoid flare ups can feel overwhelming. It's paramount to create a sustainable support network to help manage your condition. Understanding management and prevention techniques, including trigger and stress avoidance is key. There is no cure, or single solution. Taking time to heal and being diligent through self-care regimes is critical. Try not to be embarrassed and know that you're not alone. Maintaining a good level of physical and social activity is key for mental health and wellbeing.
My final top tips for if you're having a flare up, particularly when visible on your face: Go out for a walk in the cool air, or take a drive with your windows down; the amount of funny looks I've had in winter months driving with my two front windows down is unbelievable! Consider an SUV, or trailer for all those prescriptions!
I endeavour to use my unique story as a platform to raise awareness for eczema, allergies, skin and autoimmune conditions; I remain curiously passionate about others and hope to hear your personal stories, thoughts, comments and reflections in time.
If you ever see me out in a white shirt, you know I'm having a good skin day!